[column width="eight" place="first" ]
Innovation in Shower Systems
The Showermen Group indoor outdoor shower is the result of years of Kiwi design and development have gone into creating the innovative range of patented SMG Stainless Steel (316 grade) Shower Systems – both indoor & outdoor.
A key feature is the shower slide providing adjustable height, removable hand piece, mixer and plumbing are all integrated into one single unit/pole. Plumbed through the ceiling or floor and requiring no in wall plumbing, the SMG provides flexibility in positioning both indoor and outdoor, accommodating the tallest adult to the smallest child with style and ease.
Indoor Shower – ideal for designer bathrooms
SMG creates stylish, minimalist, easy to clean open spaces, where the pole can be positioned at the entry of the recess and water flow directed against the wall; providing the convenience of adjusting water temperature without getting wet.
Unleash your creativity with bathroom design, where wet area walls feature photo images or artwork uninterrupted by wall mounted tapware & shower heads.
Plumbed from ceiling or floor there is no risk of in-wall leaks and pipe noise; and will not compromise soundproof or fire walls. Requiring minimal space & offering flexible positioning, it is a clever design choice for bathrooms of all shapes and sizes.
Outdoor Shower – a stylish addition to your garden, poolside or outdoor living area
In addition to the sleek design, enjoy the practical luxury of adjustable height & removable hand piece – a rarity in the Australian outdoor shower market. Polished to a mirror finish, in 316 grade stainless steel, the SMG will stay looking great and deliver so much more than traditional outdoor showers. With a variety of fixing plates provided for most installation options and competitive pricing, the SMG Outdoor ticks all the boxes.
[/column]
[column width="eight" place="last" ]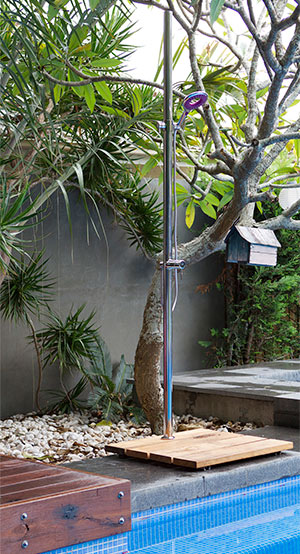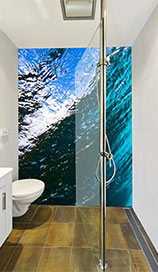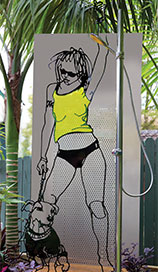 [/column]