[column width="2/3″ place="first" ]
The Showermen Group Australia is a national distributor of high quality indoor and outdoor showers. Managed by Colleen Ryan and Gary Whittaker, we operate from our offices on the Northern Beaches of Sydney, Australia and distributes showers to suburbs and regional areas in ACT, NSW, VIC, QLD, NT, SA, and WA.
SMG Australia draws on years of experience in bathroom design and quality plumbing and can offer our clients expert advice and tailored installation solutions.
SMG showers were designed and developed in New Zealand has registered patents in Australian and New Zealand. The material selection, construction and quality of finish is comparable to the finest shower brands on the market.
What sets SMG apart from our competitors is the durability and flexibility of the product. The sturdy stainless steel construction utilises floor or ceiling plumbing which means the shower system can be positioned just about anywhere in bathrooms or outdoor. The adjustable shower height of the shower rose and removable shower head provide you with showering.
The shower has many advantages and benefits:
Durability and ease of cleaning – indoors or outdoors
Installation position not limited to wall plumbing
Adjustable height and removable shower head
Single mixer valve tap
Provides support for elderly or disabled
Water saving and efficient
Architectural design flexibility
The Showermen Group Australia provides installation advice and a 5 year warrantee on outdoor showers and bathroom showers.
[/column] [column width="1/3″ place="last" ] [headline htype="h4″] Contact us [/headline][notice title="Need a shower?"]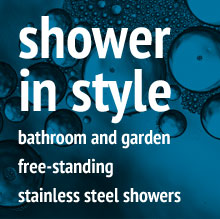 We're offering great great deals on summer stock. Call 0412 632 342 or send and enquiry
Enquiry [/notice][/column]
[headline htype="h4″]The SMG Range [/headline] [column width="1/3″ place="first" ][/column]